Groningen: The Panoramic Province – € 22
Take a day trip to Groningen and climb Martini Tower for panoramic views.
What's included
Admission ticket for climbing the Martini tower
City map of Groningen
Day return train e-ticket from any station in the Netherlands to Groningen.
---
Groningen
Home of the Martini Tower, Groningen is a city that effortlessly blends big-city marvels with small-town charms. Take a day trip to the north and discover a city rich with sights, surroundings and cultural landmarks.
Groningen: a bird's eye view
The most famous landmark in the city of Groningen is surely Martinitoren (Martini Tower). Located in the heart of Groningen's old town, Martini Tower is actually the church steeple of Martinikerk (Martini Church). Built in the 15th century, at 96.8 metres tall, Martini Tower was Groningen's highest building for nearly 400 years. A few fun facts: the current building is actually the third Martini Tower. The first, a 30-metre Romanesque tower built in the 13th century, was destroyed by lightning. In the early 1400s, the tower was rebuilt – this time with a height of 45 metres. It was soon struck by lightning again, causing a fire that partially destroyed it. In the latter part of the century, Martini Tower was restored to a height of 97 metres. It remains standing in Groningen today. Even though modern times have changed its position as Groningen's tallest building, Martini Tower still provides the city's best views.  Situated on the northeastern corner of Groningen's main market square, the Grote Markt (Big Marketplace), it's the perfect place to get a bird's eye view of the city and its surroundings. With 251 steps (of the typically narrow Dutch variety), it's quite a climb, but the view is certainly worth the effort. See if you can spot the church tower of the nearby St. Joseph Cathedral.
Groningen by foot
---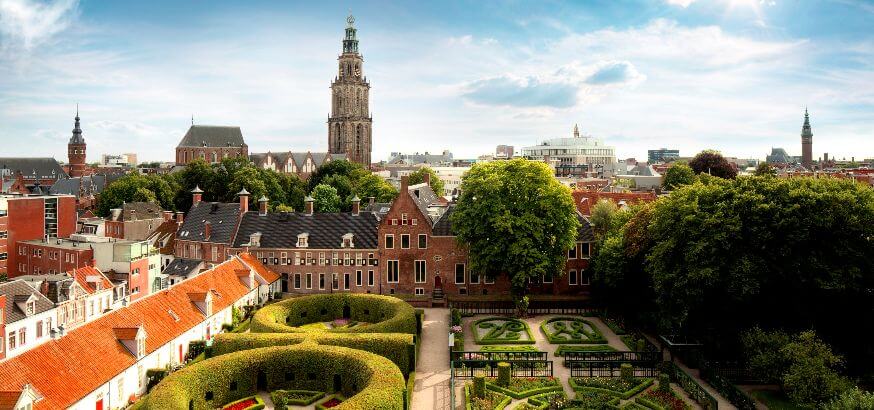 ---
Special terms and conditions
Special offer and tickets are valid until January 31, 2021.
E-tickets for Martini tower are valid until January 31, 2021.
Cannot be combined with any other offers, discounts. No refund.
This promotion includes an e-ticket day return to Groningen, valid Monday till Friday after 09.00 a.m., all day on Saturday and Sunday and not valid on King's Day, April 27.
Bring your E-ticket to the Tourist Office (VVV) and exchange it for a ticket for climbing the Martini tower and get a free City map walking route.
Only valid together with the ticket(s) of this getaway.
E-ticket day return is valid in trains of NS, Arriva, Breng, Connexxion and Syntus.
Not valid on Thalys train Amsterdam-Paris, not valid on Eurostar, valid with an Intercity Direct supplement between Schiphol and Rotterdam & ICE International.
---
Useful information
Address:
Grote Markt 29 9712HS Groningen
Opening hours:
More information about Groningen and the Tourist office opening hours, take a look at our website: www.tourism.groningen.nl or contact us via email 'info@vvvgroningen.nl' or call '+3150-3139741' Opening hours Martini tower: Monday: 12:00 - 17:00 Tuesday until Friday: 11:00 - 17:00 Sunday: 12:00 - 16:00 Ticket sales ends half an hour before closing time. The Martini tower is closed on holidays.
Location:
Groningen
More details: