THIS IS HOLLAND Flight Experience – € 29
Explore the Netherlands with the spectacular THIS IS HOLLAND Flight Experience
What's included
Admission e-ticket for THIS IS HOLLAND Flight Experience.
Day return train e-ticket from any station in the Netherlands to Amsterdam.
---
Amsterdam
Do you want to make the most out of a short visit to Amsterdam? Get a taste of the Netherlands, without having to leave the capital, with the THIS IS HOLLAND Flight Experience. Located in the iconic circular building between the new A'DAM Toren (Tower) and the modern EYE Film Institute. With the one-of-a-kind flight simulator, a visit to THIS IS HOLLAND will be both fun as educational. You can even combine your visit with a ride on Europe's highest swing at the A'DAM Tower.
THIS IS HOLLANDthe unique Flight Experience
Fly high over and the rest of the country's sights – without having to leave the ground. THIS IS HOLLAND does not only let you see the Netherlands – it allows you to experience it too. The experience gives you a close-up snapshot of a country that is small in size, but mighty in reach.
Awaken your senses
The Flight Experience is the main show out of the 4 shows that THIS IS HOLLAND provides. With about a 9 minute flight, THIS IS HOLLAND offers the longest flight of all Flight Experiences in the world. During this aerial experience, you'll fly over the , which have become synonymous with the Netherlands. No matter what time of the year, the fragrant flowers will instantly transport you to spring. Feel the wind in your hair as you cross the country's many dikes while braving a few storms. But don't worry – you'll never have to leave the comfort of your seat!
An unexpected angle
THIS IS HOLLAND offers a truly unique angle when viewing the Netherlands's must-see locations. Many tourists experience the rich history of Amsterdam's canal network with a canal cruise, but why stop there? THIS IS HOLLAND's bird's-eye view offers a completely different vantage point over the country, which lies below sea level. Learn how dikes, windmills and polders were used in order to build the Netherlands. The country's unique flat patchwork-quilt-like landscape makes it particularly interesting to experience from above. Thanks to astonishing special effects, the THIS IS HOLLAND experience feels real.
---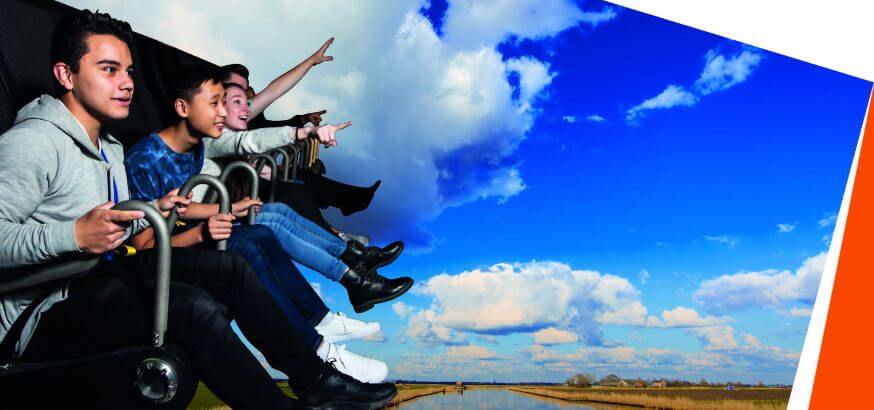 ---
Special terms and conditions
Children under 102 cm and pregnant women can not be seated in the Flight Experience.
THIS IS HOLLAND Flight Experience Tickets are available until January 31, 2021.
E-tickets are valid until January 31, 2021.
Cannot be combined with any other offers, discounts. No refund.
This promotion includes an e-ticket day return to Amsterdam, valid Monday till Friday after 09.00 a.m., all day on Saturday and Sunday and not valid on King's Day, April 27 and May 1, 2, 3.
Only valid together with the ticket(s) of this getaway.
E-ticket day return is valid in trains of NS, Arriva, Breng, Connexxion and Syntus.
Not valid on Thalys train Amsterdam-Paris, not valid on Eurostar, valid with an Intercity Direct supplement between Schiphol and Rotterdam & ICE International.
---
Useful information
Address:
Overhoeksplein 51 1031 KS Amsterdam
Opening hours:
Daily from 10am - 8pm Please check www.thisisholland.com for opening hours during public holidays.
More details: